Dress For Success Part 1: College "Guy" Edition
Like most students in college, there is a chance that you will need a part time job, internship, or that big job after you graduate. For those of you that have never had a job before it may be hard to really decide how to present yourself in a professional and presentable manner. In this first blog post MyU College Threads is here to show the fellas how to dress accordingly when going to a job interview. (We've also added some cheaper options with pictures in case you're interested!)
Men:
Pants-
Generally you should go for a darker or neutral color pair of slacks when it comes to an interview. Something too bright is going to attract unwanted attention and may make you look unprofessional. Dark greys, blacks, and blues are what we would recommend but a nice pair of khakis or lighter grey slacks can work depending on the situation.
Shirt-
Shirts are also something that you want to keep neutral for the most part when you go into an interview. Try to pick something that will blend in well with your pants but isn't going to be an eyesore to look at during the interview process. You also want to make sure the shirt is pressed and long sleeved (unless the work environment calls for otherwise). Make sure the shirt isn't too tight or too loose so you can present yourself in the best possible way.
Shoes-
Your shoes are the final product of the outfit. Depending on the job, your shoe style will change but the go to choice is a nice pair of black dress shoes. If you have dress shoes that are in a different color, make sure that they go along with the outfit that you are wearing. Color coordination is key in most situations. There are also dress boots that can be worn that also look great when going to job interviews. Just make sure that your shoes are polished, not scuffed, and look presentable.
Ties-
Ties are not necessary when going to a job interview always but they do leave a nice impression. When deciding on a tie you want to make sure that the style, designs, and colors go with the pants and shirt that you are wearing. You don't want to wear a pink and orange tie if you are wearing a light blue shirt and black pants. It's too many colors and doesn't really blend together. A skinny tie is a great look outside of the job interview but for this first meeting you should look for something neutral and regular sized. The type of knot doesn't matter (we recommend a Windsor) but make sure it's not out of the ordinary or something that makes you look sloppy.
Jacket-
The question of the suit jacket is something to consider. Depending on the situation, type of environment and if you have access to a suit jacket, it's not a bad choice. The problem is that you have to blend the suit jacket in with the rest of the outfit or it will not work. If you're wearing grey pants with black pinstripes and decide to wear a navy blue suit jacket, it's just not going to work. It's important to consider if you will be overdressing for the interview by wearing a suit jacket. If you feel like it's the right environment, have the right fit, and it goes along with your outfit then it may be a necessity to have.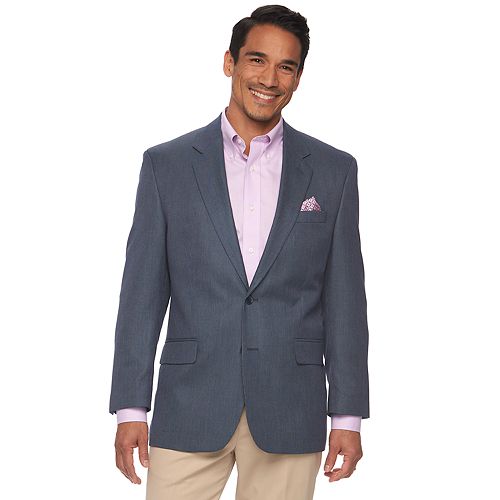 Kohl's Croft and Barrel Sports Coat
Accessories-
You're definitely going to have to lose any piercings that you may have before you go into the job interview. You want to look as professional as possible and piercings do not give that impression to MOST employers (of course there are exceptions). You should also be sure to hide any tattoos that you have upon the first meeting. A nice watch and maybe a ring should be the only accessories that you wear while going into a job interview.
Well that's part one of the Dress for Success blog! We hope that we helped you guys out with some of our style tips. Remember to always do some research before going into an interview to make sure that you know how the company environment is and that you are dressed appropriately for it. These aren't words or styles to live by but simply just some suggestions! Good luck out there and be sure to check out our blog next week for the College "Gal" edition!